Product Summary
The BTS5234G is a dual channel high-side power switch in P-DSO-20-21 package providing embedded protective functions. The power transistor is built by a N-channel vertical power MOSFET with charge pump. The device is monolithically integrated in Smart SIPMOS technology. The applications of the BTS5234G include μC compatible high-side power switch with diagnostic feedback for 12 V grounded loads, All types of resistive, inductive and capacitive loads, Suitable for loads with high inrush currents, so as lamps, Suitable for loads with low currents, so as LEDs and Replaces electromechanical relays, fuses and discrete circuits.
Parametrics
BTS5234G absolute maximum ratings: (1)Operating voltage, Vbb(on): 4.5 to 28V; (2)Over voltage protection, Vbb(AZ): 41 V; (3)On-State resistance, RDS(ON): 60 mΩ; (4)Nominal load current (one channel active), IL(nom): 3.3 A; (5)Current limitation, IL(LIM): 23 A; (6)Current limitation repetitive, IL(SCr): 6A; (7)Standby current for whole device with load, Ibb(OFF): 2.5 μA.
Features
BTS5234G features: (1)Very low standby current; (2)3.3 V and 5 V compatible logic pins; (3)Improved electromagnetic compatibility (EMC); (4)Stable behavior at under voltage; (5)Logic ground independent from load ground; (6)Secure load turn-off while logic ground disconnected; (7)Optimized inverse current capability.
Diagrams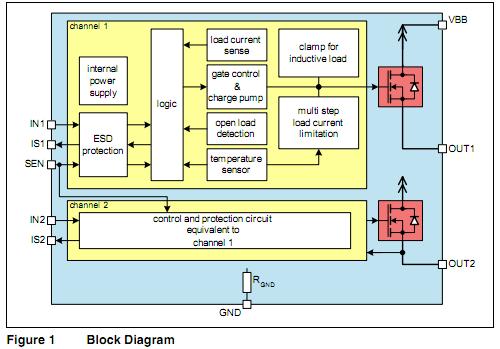 Image
Part No
Mfg
Description
Pricing
(USD)
Quantity

BTS5234G

Infineon Technologies

Power Switch ICs - Power Distribution PWR SWITCH HI-SIDE 3.3A 14PIN

Data Sheet



| | |
| --- | --- |
| 0-605: | $1.80 |
| 605-1000: | $1.52 |
| 1000-5000: | $1.38 |

Image
Part No
Mfg
Description
Pricing
(USD)
Quantity

BTS50050-1EGA

Infineon Technologies

Power Switch ICs - POE / LAN HIC-PROFET

Data Sheet



| | |
| --- | --- |
| 0-605: | $1.82 |
| 605-1000: | $1.54 |
| 1000-2000: | $1.46 |
| 2000-5000: | $1.40 |


BTS50055-1TMA

Infineon Technologies

Power Switch ICs - Power Distribution Smart Hi-side Hi Currnt PWR Switch

Data Sheet



| | |
| --- | --- |
| 0-1: | $4.06 |
| 1-10: | $3.65 |
| 10-100: | $2.97 |
| 100-250: | $2.36 |


BTS50055-1TMB

Infineon Technologies

Power Switch ICs - Power Distribution SMART HI SIDE HI CURRENT PWR SWITCH

Data Sheet



| | |
| --- | --- |
| 0-245: | $2.77 |
| 245-250: | $2.50 |
| 250-500: | $2.24 |
| 500-1000: | $1.89 |


BTS50055-1TMC

Infineon Technologies

Power Switch ICs - Power Distribution SMART HI SIDE HI CURRENT PWR SWITCH

Data Sheet



| | |
| --- | --- |
| 0-605: | $2.33 |
| 605-1000: | $1.96 |
| 1000-2000: | $1.86 |


BTS50060-1EGA

Infineon Technologies

Power Switch ICs - POE / LAN HIC-PROFET

Data Sheet



| | |
| --- | --- |
| 0-605: | $1.73 |
| 605-1000: | $1.46 |
| 1000-2000: | $1.38 |
| 2000-5000: | $1.33 |


BTS50060-1TEA

Infineon Technologies

Power Switch ICs - POE / LAN Smart Hi-Side Pwr SW 1 Channel

Data Sheet



| | |
| --- | --- |
| 0-1790: | $1.13 |
| 1790-2500: | $1.07 |
| 2500-5000: | $1.03 |